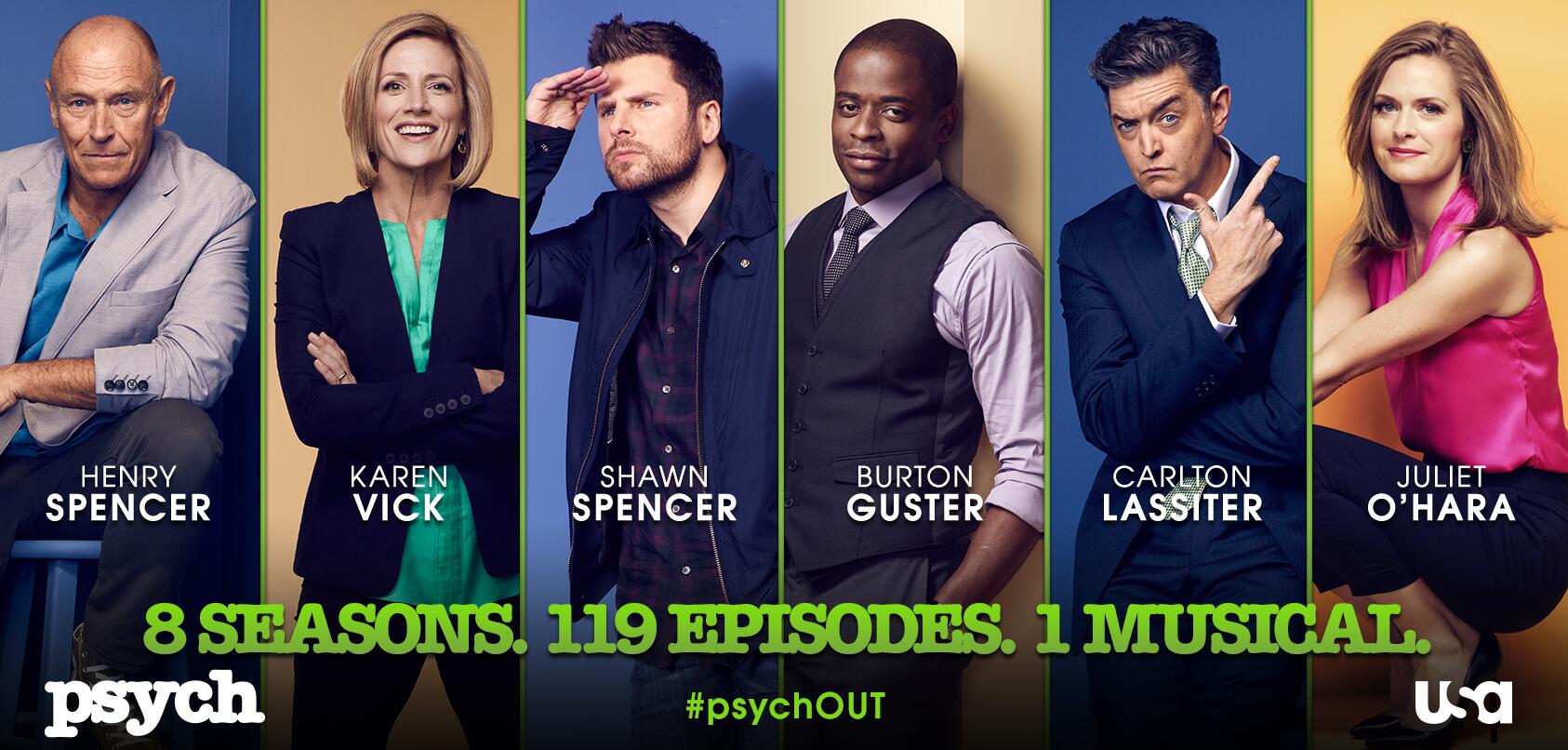 This post is going to be a little different than my usual posts. If you know me at all, you know that my all time favorite tv show is Psych. There will never be a show that will top it, at least in my mind. I didn't watch right when the show started but as soon as I saw an episode I was in love. I own every season (minus 7 & 8, but I will buy them) on DVD and have watched every episode at least twice.
The show was basically the thing I could always count on cheering me up and making me laugh when I was down. I'd even run back from my 7-10pm classes just to make sure I didn't miss a minute of Psych. I rarely missed watching an episode live. I mean meeting James Roday & Dule Hill is on the top of my bucket list and I will be getting a dog named Burton Guster aka Gus.
Ok enough of my declaration of love and on to my thoughts on the final episode. It was perfect. I don't think there were any moments I'd change. There was a lot of laughter like usual, of course some tears were shed and it didn't leave me wanting more. I got super nervous that the episode was titled The Break Up.
In the beginning Shawn finally made the decision to move to San Francisco to be with Juliet and the episode revolved around him trying to break the news to Gus. Gus had a new job at a Pharmaceutical and his boss was Bud from the Cosby show! There were some many references throughout the series that Gus looked just like Bud. Deon Richmond (Bud) even called him Bud, which was amazing.
I don't think I could have accepted that it was the final episode without a crying face or running away screaming from Gus. Here's an example:
When it was finally time for Shawn to leave, he ends up giving video messages to everybody. My eye first started watering when Gus was watching his goodbye message. I completely lost it when Lassie ejected and broke the CD before finding out the truth about Shawn's "psychic" abilities. Then I lost it again when the Junior Detective was finally picked and Buzz McNab walks in the room.
Shawn finds Juliet at a crime scene in San Francisco & a few minutes later Gus runs in knocking someone over to yell at Shawn for not saying goodbye in person. He then announces that he is going to move to San Francisco because they bromance cannot be broken (of course he did turn around 12 times in the process). When they leave the crime scene, Shawn proposes to Juliet. It was the most perfect proposal scene I've ever watch, with Gus' crying face, the two consulting with each other to get it right and Juliet saying yes to Gus before Shawn.
There are even rumors of a Psych movie, and in the episode it was hinted that they already had a specialist who was alphabetizing something in the kitchen. Which leads me to believe that the movie would be a Psych/Monk crossover. I mean who else would be doing that at a crime scene beside Adrien Monk? Plus the show did take place in San Francisco.
If you are a fellow Psych-O, what were your thoughts on the finale? If you don't watch the show, why not? 😛 It's so hard to say goodbye… I'm proud of you!
Ps, I did enjoy the show with my homemade Psych shirt and ate some pineapple. (There's one hidden in every episode for those that don't know)